Highlights
The WISH project, fighting world hunger
Bioscience and Biotechnology Center
Prof. Motoyuki Ashikari and his research group at the Bioscience and Biotechnology Center, Nagoya University, have discovered a gene that can control the size of rice seed, or the rice grain size. By using conventional cross-breeding technology and a molecular marker, this discovery can be expected to enhance grain weight, yield, and plant biomass in rice. It will improve rice-breeding, which is especially vital for mitigating the impending food crisis.
This research achievement was published in Proceedings of the National Academy of Sciences of the United States of America on January 6, 2015.→ Nagoya University Press Release
With a strong commitment, let's take action to end world hunger. Rice can be expected to play an important role in solving this issue.
"Japanese rice is delicious, isn't it?"
In fact, there are a lot of high quality rice brands in Japan. They are all pleasant tasting. "This is the result of great efforts by rice breeders," according to Prof. Motoyuki Ashikari at the Bioscience and Biotechnology Center, Nagoya University.
Wild rice is not edible. However, rice breeders have produced varieties of rice by cultivating the diversity of rice genes to even be able to grow rice in climates and fields not typically hospitable to rice production. In other words, the rice we eat has been improved by cross-breeding.
"I want to produce rice to be eaten in Africa."
In his high school days, Prof. Ashikari watched a TV program about hunger and poverty in Africa and was shocked.
After that, he was determined that "Japanese agriculture will stop world hunger." Prof. Ashikari began his career as a researcher, and in 2010, he launched the Wonder rice Initiative for food Security and Health(WISH)project.
Despite a lot of negative opinions about the project, he has prevailed. The WISH project has vigorously moved forward, and in 2013, it joined up with International Rice Research Institute (IRRI) and Japan International Cooperation Agency (JICA).
The method he is trying is not a genetic modification, rather it relies on conventional Japanese cross-breeding technology.
With the rice-breeding technology and the latest discovery of a gene by his group, the research is expected to move forward to increase grain production.
---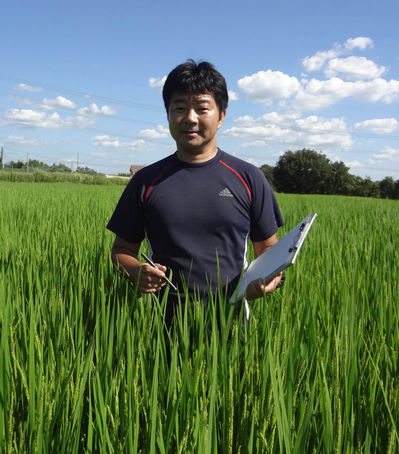 Prof. Ashikari at Togo field, Nagoya University.
---
*******
"Hunger and malnutrition are still the world's largest health risk."
World Food Programme (WFP) states that 25,000 people lose their lives daily, including 14,000 children under the age of five due to the starvation. The current world population, which is about 6.8 billion people is expected to increase to over 9 billion by 2050 (i.e., a 1.4% increase per year).This growth exceeds the 1% of current annual increase in the food growth rate, and therefore, the food crisis will escalate in the future.
As one solution of this food crisis, Prof. Motoyuki Ashikari has accelerated his research to increase rice production. So far, the research group has discovered a Gn1a gene for rice grain production and a WFP gene to increase rice branching (Ashikari, et al. Science (2005) 309:741-45; Miura et al. Nature Genetics (2010) 42: 545-9).
Subsequently, in this study, the group has started to identify a gene that regulates the grain size of rice.
Their focus is on two different species of rice that are strongly related to grain size. Japanese rice (rice japonica varieties) characteristically has a short round shape. Conversely, rice consumed in Southeast Asia (indica varieties) has thin and elongated shape (Figure 1).
---
Figure 1. A rice Japonica variety, Nipponbare, and a rice Indica variety, Kasalath. (Figure: by courtesy of Prof. Ashikari)
---
"Because there is a gene that controls the shape of rice, the grains can form differently."
Comparing differences in genomic sequencing between the Nipponbare (japonica variety) and Kasalath (indica variety) varieties, out of the total 12 rice chromosomes, the research group found a gene that controls the size of a rice grain in chromosome 6, enhanced by the allele of Kasalath (Figure 2).
---
Figure 2. GW6 genes control the size of rice grain. (Figure: by courtesy of Prof. Ashikari)

---
The grain weight governed by chromosome 6 (GW6) genes can be induced in Nipponbare, which results in a larger size grain of rice under this over-expression. If the GW6 genes are inhibited, the rice grain size becomes smaller (Figure 3).
---
Figure 3. The size of grain rice, Nipponbare under the over-expression of GW6 and when inhibited GW6. (Figure: by courtesy of Prof. Ashikari)
---
When a gene can be identified by the combination of cross-breeding and monitoring by molecular markers, the gene can migrate to various breeds and conventional cross-breeding is efficiently improved. Technically, the newly bred variety produced by this conventional modality is not genetically modified.
Hence, by breeding the gene to control the rice size, rice yield can be expected to increase.
*******
"In Africa, rice is in high demand, but it is mainly imported."
Rice is filling. However, in Africa, rice is not cultivated in their own culture. Other reasons for why there is no rice production in Africa are that the weather and production conditions.
The food problem depends intricately on environments, tastes, facilities, fertilizers, methods of harvest, markets, education, communities, and so on. In fact, it is important but difficult to increase the rice yield by even a small percentage.
"Nothing is gained without a challenge."
To fight world hunger, Prof. Ashikari continues to strive to create rice that is disease-resistant and can be grown in any region, as well as increasing its productivity.
It is not too late yet.
―We must address the world food shortage, and take up this challenge as best as we can.
(Ayako Umemura)
Researchers featured in this article
Dr. Motoyuki Ashikari【Professor, Bioscience and Biotechnology Center, Nagoya University】
Dr. Ashikari completed his doctoral degree as a member of the Faculty of Agriculture, Kyushu University. Dr. Ashikari moved to the National Institute of Agrobiological Sciences (NIAS) to work as a post-doctoral researcher. He became an assistant at the Biomolecular Response Research Center, Nagoya University and an associate professor at the Bioscience and Biotechnology Center, Nagoya University. Dr. Ashikari has been a professor at the Bioscience and Biotechnology Center, Nagoya University since 2007.

***
Dr. Ashikari remains strongly committed to this cause and continues to make great efforts to achieve it. "In the face of the ongoing challenge, I can experience advances, but also setbacks," he says honestly.
However, he impresses a lot of students, who say things like, "I want to engage in an activity to contribute to international support like Prof. Ashikari." He is a charismatic figure who inspires students to be future researchers (by AU)


Links
SXian Jun Song, Takeshi Kuroha, Madoka Ayano, Tomoyuki Furuta, Keisuke Nagai, Norio Komeda, Shuhei Segami, Kotaro Miura, Daisuke Ogawa, Takumi Kamura, Takamasa Suzuki, Tetsuya Higashiyama, Masanori Yamasaki, Hitoshi Mori, Yoshiaki Inukai, Jianzhong Wu, Hidemi Kitano, Hitoshi Sakakibara, Steven E. Jacobsen, and Motoyuki Ashikari.
Rare allele of a previously unidentified histone H4 acetyltransferase enhances grain weight, yield, and plant biomass in rice
PNAS 112: 76 (2014).
(First published on December 22, 2014; doi:10.1073/pnas.1421127112)

Link to related article1 (from a search-result)

Motoyuki Ashikari, Hitoshi Sakakibara, Shaoyang Lin, Toshio Yamamoto, Tomonori Takashi, Asuka Nishimura, Enrique R. Angeles, Qian Qian, Hidemi Kitano, and Makoto Matsuoka.
Cytokinin Oxidase Regulates Rice Grain Production.
Science 309: 741 (2005).

(First published on June 23, 2005; doi: 10.1126/science.1113373)
Kotaro Miura, Mayuko Ikeda, Atsushi Matsubara, Xian-Jun Song, Midori Ito, Kenji Asano, Makoto Matsuoka, Hidemi Kitano & Motoyuki Ashikari
OsSPL14 promotes panicle branching and higher grain productivity in rice.
Nature Genetics 42: 545 (2010).

(First published on May 23, 2010; doi:10.1038/ng.592)